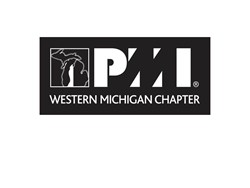 Grand Rapids, Michigan (PRWEB) July 23, 2013
The Western Michigan Chapter of the Project Management Institute (http://www.wmpmi.org) has finalized the panel of Executive Judges for THE Project 2014, an Inter-Collegiate Competition in Project Management.
The competition last year saw seven teams from five Colleges competing for $ 11,000 in prize money and the field is expected to expand to sixteen schools competing again for $ 11,000 for the 2014 Competition. The teams will begin the process of constructing their project plans during January of 2014 and make their final live presentations at Davenport Universities Kentwood Campus on April 14th, 2014.
The Executive Judges Panel performs the final adjudication and determines the winning teams after the final four teams present their completed project plan and live presentation to the panel. The final four teams are selected by a seasoned panel of Program Management (PMO) professionals after two project stage gates are passed and final project plans presented by all of the teams the morning of the final event day. THE Project 2014 will once again give students real-life business experience rather than a mere academic exercise said returning Judge James Mitchell, JD founder and principle attorney of Mitchell Intellectual Property Law, LLC, and Judge for THE Project 2012 and 2013.
The Executive Judges for THE Project 2014 are;
Dr. James Brown, PhD, PMP Founder and CEO, Seba Solutions (new Judge).
Dr. Brown spent 17 years at NASA as a project manager and engineer. He founded his company, Seba Solutions, in 1997 to provide project management and leadership training services that lead to actions and results. Dr. Brown is a well-known speaker and lecturer on project and program management throughout the world. He will be addressing all of the student participants in a morning lecture titled Managing Your Career and will also be our Keynote speaker at the awards dinner the evening of the competition final day.
Lieutenant Colonel (retired) Dennis Gillem, MSE, MBE Syndicated radio talk show host for the program Frontlines of Freedom heard each week on WOOD 1300 in Grand Rapids Michigan (new Judge).
Col Gillem has been a tireless advocate for Veterans rights and Veterans affairs across the state of Michigan. Denny, as he prefers to be addressed, also serves as an adjunct professor at Grand Rapids Community College and the University of Phoenix.
Gary Granger President/CEO the Granger Group and Chairman of the board of Ferris State University (returning Judge).
Gary Granger is the founder and owner of Granger Group. He has 30 years of experience and leadership in all phases of the development process. In 1997, Gary established Granger Group to pursue his vision of achieving an extraordinary level of excellence in delivering the built environment. With Garys leadership, Granger Group has established partnerships and relationships leading to more than $ 700 million worth of successful developments. Gary is active in the community serving on many boards including the State of Michigan Chamber of Commerce, Van Andel Institute, and Ferris State University.
James Mitchell Founder and principle attorney at Mitchell Intellectual Property Law (returning Judge).
James Mitchell specializes in pharmaceutical patent litigation, including Hatch-Waxman litigation, chemical patent litigation and trademark litigation. He has served on the Mayors task force attracting knowledge-based industry to Grand Rapids. James is a member of the Grand Rapids and American Bar Associations and the American Intellectual Property Law Association. He serves on multiple community boards including Chairing the Borad of the Mel Trotter Mission in Grand Rapids, MI. Jims service includes many years on the Board of Control of Michigan Technological University serving two years as Chair. He is a life member of the Board of Trustees of the Michigan Tech Fund.
Carole Valade Editor Grand Rapids Business Journal & Gemini Publications (returning Judge).
As Editor of Gemini Publications, Carole R. Valade is responsible for editorial policy, planning and development if publications and the editorial staff of all seven Gemini publications including Grand Rapids Magazine and the Grand Rapids Business Journal. She has received numerous awards for news and feature writing from the Associated Press and the Michigan Press Association. Among numerous recognitions, Valade was a recipient of the Athena Award by the Grand Rapids Chamber of Commerce. She was also awarded by Women and Leadership in the Workplace, Michigan Business & Professional Association and U.S. Regional Media Advocate of the Year Award.
WMPMI is grateful to have such an amazing panel working on behalf of students and the project management profession in West Michigan said Ted Kallman, PMP, CSM, CSP, the VP of Programs for WMPMI and the team member tasked with recruiting the Judges panel. PMI (http://www.pmi.org) is the worlds leading not-for-profit membership association for the project management profession. It has more than 700,000 members and credential holders in 185 countries with 688 of those members in the West Michigan Chapter.